Theodore and Belle Naish
---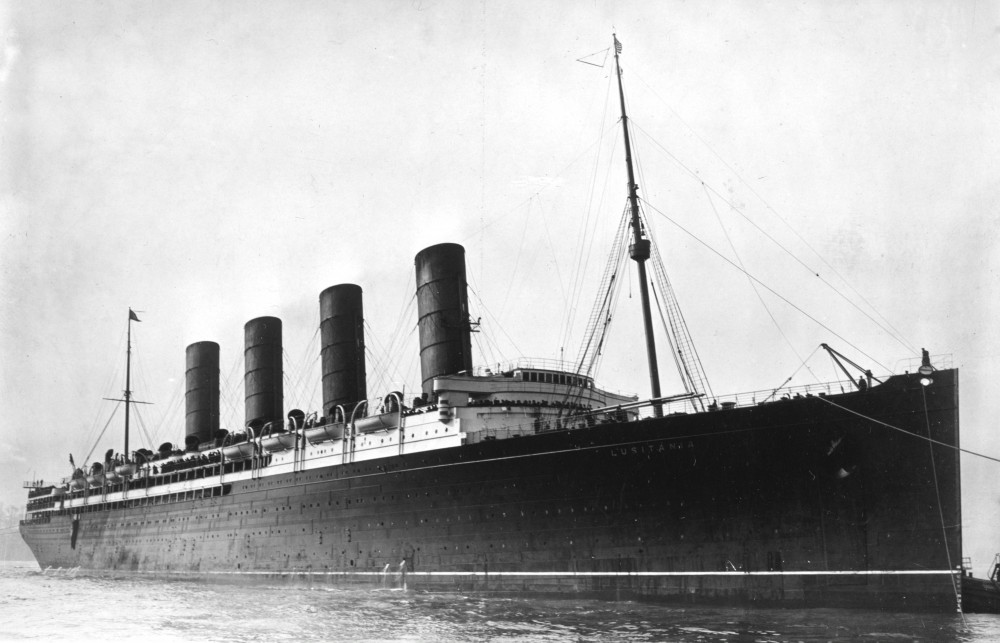 RMS Lusitania, George Grantham Bain Collection
Library of Congress
Although thousands of miles from the war zone, Missouri was touched by one of the greatest tragedies of World War I, the sinking of the British passenger liner RMS Lusitania on May 7, 1915. Among the 159 Americans on board, nine were Missourians. Six of them were among the 1,195 people who died in the tragedy. 
Two of the Missourians on the Lusitania were Theodore and Belle Naish in second class. Naish was a British immigrant living in Kansas City who met Belle Saunders on a visit to Detroit, Michigan. They were married on June 19, 1911 and lived in Kansas City where Theodore was employed by the public works department. They were sailing on the Lusitania as part of their belated honeymoon. On May 7, 1915, Theodore was suffering from seasickness in their cabin. Belle brought him lunch and after eating, Theodore suggested she go on deck to admire the view as they sailed past Ireland. Although reluctant to leave her ailing husband, Belle went to the deck where it seemed to her she could almost touch the trees on the coastline. Heading back to her cabin, Belle heard a large crash as she neared the entrance to the second-class quarters. This was the moment the torpedo struck the doomed liner. Drenched in seawater, Belle struggled to her cabin as panicked passengers climbed the stairs to escape the lower decks. She found Theodore in their cabin where they put on their life vests and joined the other passengers in a desperate rush for the lifeboats.  
The Naishes helped other passengers with their life vests as an officer assured them the doomed liner could float for at least an hour. Observing how the deck was aligned with horizon, Belle knew the Lusitania would go down long before that. Belle described hearing another terrible sound and suddenly being in the water. A man pulled her into lifeboat #22A, but Belle never saw her husband Theodore again.  
The survivors in lifeboat #22A were picked up by the Julia. While sitting on the deck, Belle noticed sailors lay Theodate Pope among the dead "like a sack of cement." Although Pope was unconscious, Belle insisted the sailors try to revive her. Their efforts worked and Theodate slowly regained consciousness. She gratefully paid a pension to Belle for the rest of her life.  
Theodore had real estate investments in Edwardsville, Kansas and Belle settled there upon her return to America. She became a well know philanthropist and donated 90 acres of land to the Boy Scouts of America for the establishment of Camp Naish. Belle Naish died on August 25, 1950 at the age of 95.
Source:
The Lusitania Resource
http://www.rmslusitania.info/